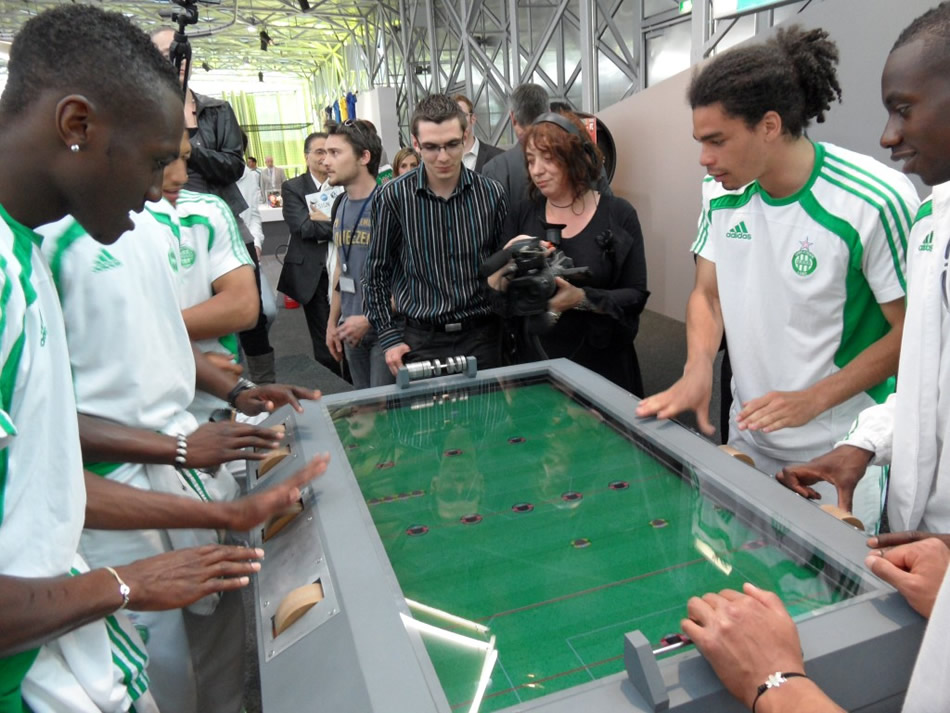 Très populaire pour son côté convivial, le babyfoot est plus qu'un simple jeu dérivé du football, c'est véritablement une discipline à part entière. C'est un objet autour duquel on se réunit, vecteur de rencontres et créateur de liens intégrant un important aspect social.
Par opposition, les jeux récents sont plus centrés sur l'individu et lorsqu'ils sont multijoueurs, c'est généralement via le réseau internet. Le babyFoot 2.0 est une version actualisé, une interprétation électronique du célèbre jeu de bar. Gardant l'aspect multijoueur «physique et simultané» de l'ancien, le babyFoot 2.0 replace la mécanique du jeu au sein du contexte vidéoludique et tente d'interroger l'usage et la gestuelle liée au babyfoot à travers le numérique.
Very popular for its friendly side, the table football is more than just a game derived from football, it really is a discipline in itself. It is an object around which people gather, meet and a vector creator of links including an important social aspect.
In contrast, recent games are more focused on the individual and when multiplayer, it's usually via Internet. The babyFoot2.0 is an updated electronic interpretation of the famous game bar. Keeping the multiplayer aspect « physical and simultaneous » of the former, the babyFoot2.0 puts table football mechanics of the game within the gaming environment and attempts to questioning the use and gestures related to table football through the digital.
Projet RANDOM lab sous la direction de
Damien Bais
,
François Brument
et
David-Olivier Lartigaud
.
Réalisé avec
Clément Ribé
, Léo Marius, Romain Leliboux et
Léo Virieu
.
RandomLab project under the direction of Damien Bais, François Brument and David-Olivier Lartigaud.
Made in collaboration with Clément Ribé, Léo Marius, Romain Leliboux and Léo Virieu.
Projet exposé à la Cité du Design (Saint-Étienne) dans le cadre de l'exposition « Design & Foot » (Avril-Septembre 2011).
Project exposed at the Cité du Design (Saint-Étienne) as part of the exhibition « Design & Foot » (April-September 2011).